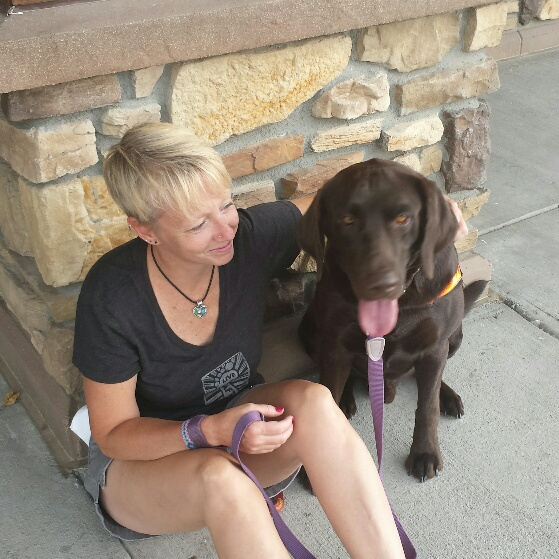 My MyMy dog Butch in Service Dog Training
I started the enormous task of creating a fundraiser and running it from start to finish in 2009 without realizing how much it took or how big of an impact it would have on my PTSD or my family. At the time I was only treating my PTSD by going to the VA for counseling and taking medication after medication trying to dull the pain and frustration of not being the person I thought I should be; the person that I thought I wanted to be.
When the fundraiser was over (and it was a wonderful success) I was a mess. Physically and emotionally I was drained and feeling more unsure of where I belonged or who I was than before. My doctors just wanted to up the doses of the medications. It wasn't until I was introduced to an art therapy program in addition to my quilting that I started to see the colors around me. And then the most wonderful thing happened; they connected me to the Object of Deployment: Veteran Book Project and in an intensive four day project where I wrote my story. 200 pages of pictures, handwritten notes, and my thoughts on how my life took a complete turn- I found a voice. My PTS had an outlet and it changed my life. After those four days everything changed; I decided to compete in my first triathlon and I did (I have a metal to prove it). It gave me the confidence to stand up and be counted for who I am and accept me for the scars that you can see and the ones that you can not see. I was lucky enough to go to a camp in Idaho with an amazing group called, Higher Ground and spent time with seven other women who also have PTS and they gave me something I didn't have... sisters. They help me through the hard days when I have to convince myself to put one foot on the floor and then another. They celebrate the great days like my last triathlon. And through my quilting, triathlons, skiing (where I met so many wonderful folks up at Eldora's Veteran Ski program), Higher Ground, and R4 Alliance and working with veterans and their families I have found different ways to work with my PTS without any medication. It's not always a picnic but I am strong enough. I have come a long way and although there are days that come and days that I am happy to see go I am proud to have the battle scars that I do. I am an original, there is no one quite like me. My current goal is to create a book of my quilt work and a corresponding calendar; that will be coming in the spring of 2017. A selection of my work is traveling the United States for several months in 2016 while I will be teaching classes and traveling with other work. I look forward to meeting you in my travels.
Juliet and Peter on Pikes Peak July 2013